NORWALK — When Bob Kunkel was growing up, his grandfather offered to teach him how to be a butcher, but he knew change was coming.
"He was a butcher in the Bronx and he knew the big grocery stores were coming,†Kunkel said. "I think he'd be surprised to see that trend reversing now, and that's thanks to the millennials.â€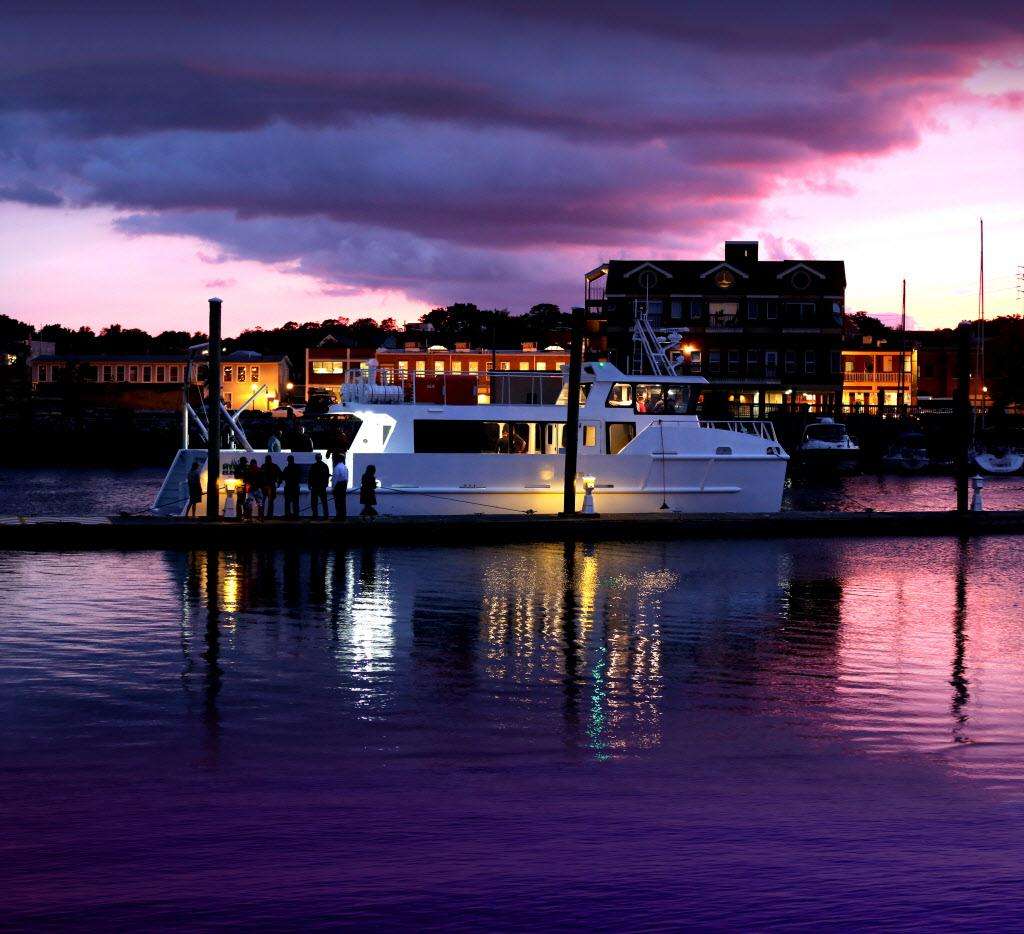 Kunkel, one of the owners of Harbor Harvest in East Norwalk, said he's seen a marked change in the way people shop, think about food and care where it comes from. So with millennials returning to locally produced goods and a deepening interest in lowering their carbon footprint, Kunkel is looking to take that one step further.
Kunkel has a vision — a fleet of hybrid electric catamarans with refrigeration ferrying organic and locally produced foods across Long Island Sound. If it sounds like a lofty ambition, consider that Kunkel's not just a food market owner, he also owns AMTECH, the company that built the Maritime Aquarium's cutting-edge new research vessel.
Harbor Harvest is partnering with Derecktor Shipyards of Mamaroneck, N.Y., to develop the alternative transportation platform. The goal is to create an emissions-free eco-delivery marine coastal farm-to-table distribution network. It would help alleviate congestion and emissions on the Interstate 95 corridor and within the local cities in Connecticut and New York.
"Local and organic farmers spend so much effort on being as sustainable as possible,†Kunkel said. "And then they ship their goods in trucks that are inefficient, cause congestion and pollution. It doesn't make sense.â€
Kunkel said the project would use hybrid lithium battery propelled boats to deliver dairy, produce, meat and fish products collected from the inland agricultural areas of Connecticut, Rhode Island and Long Island to coastal distribution points on all sides of Long Island Sound. Boats will distribute products along the Connecticut and Long Island coastline and eventually into New York City. Door-to-door service would be provided from the original Harbor Harvest retail farm market and distribution center in East Norwalk.
The project has garnered support from local politicians, farmers, restaurant owners and consumers, and on Wednesday the Connecticut Port Authority board voted to act as the public sponsor for the Federal Marine Highway designation in order to receive grant funding for the project.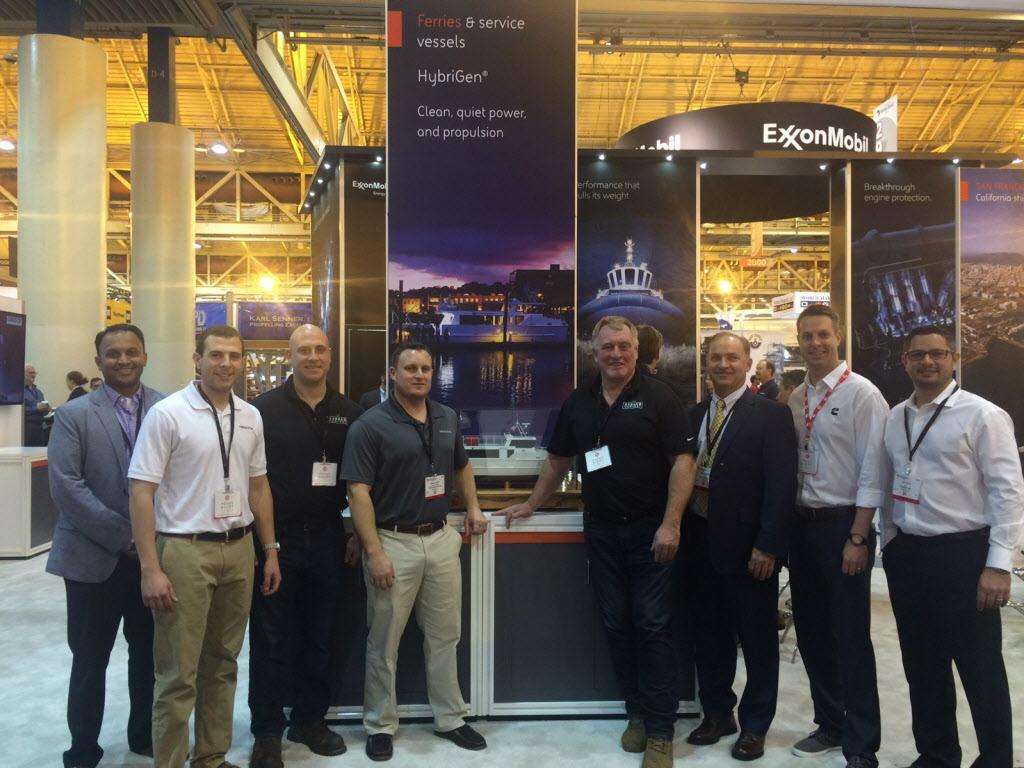 Harbor Harvest owner Bob Kunkel (fifth from left) and the them who designed the hybrid vessels used at the Maritime Aquarium and in the future Harbor Harvest sustainable marine shipping project.
The farm-to-table organic food market has exploded within Fairfield County, and New York state continues to be a leader in agricultural with more than 36,000 farms producing $4.7 billion in products annually, according to a report released by Connecticut State Comptroller Thomas P. DiNapoli.
Farming in New York and Connecticut is mainly a small, family business, and Connecticut has more than 42 certified organic farms and over 120 farm stand market places, all of which are the target audience for sustainable shipping. The project has collected so much interest, that Kunkel imagines growth along the New England coastline could call for a fleet of 12 boats instead of the two he had originally planned to build.
"We have found no opposition so far,†Kunkel said. "We're getting a lot of inquiries up and down the Hudson, in New York City, South Jersey, Rhode Island … I've even had farmers in Maine already making calls. It's a return to New England history where shipping was all done by water.â€
Kunkel, who owns the global marine shipping company Alternative Marine Technologies (AMTECH) and Harbor Harvest, was previously the the chairman of the federal government's Short Sea Cooperative Program, modeled after a short sea shipping project in Europe.
AMTECH was also responsible for the 65-foot catamaran hyrbrid research vessel now used by the Maritime Aquarium. It is the only research vessel in North America with hybrid-electric propulsion, and runs virtually silently on Lithium battery electric power for the aquarium's two-hour study cruises on Long Island Sound. Designed by Incat Crowther of Australia, the boat was built in Mamaroneck at the Derecktor shipyard.
Now, Kunkel is combing his experience in shipping, passion for sustainability and success of the Martime Aquarium vessel to once again work with Derecktor to modify the catamaran hull from a passenger vessel to a cargo vessel. The construction and delivery of each hybrid vessel is estimated at $3 million.
The cargo area will include 300 square feet of open cargo space, 100 square feet of indoor covered cargo space and 140 square feet of walk-in refrigerated space capable of carrying 12,000 pounds of cargo. Kunkel said the vessels will also have research capabilities and collect data during every trip out. Trip lengths will range from 1.5 to 3 hours, meaning the system will only be used for local goods.
Kunkel expects the vessels to run on electric power without having to burn fossil fuels, and therefor will have no emissions or fuel costs.
â€Each boat takes three to five full trucks off the roadways,†Kunkel said. "If they're not full, it's eight to 10 trucks off the road … but we're doing everything sustainably. You're not going to see Stop and Shop trucks loading up across from our neighborhood store in East Norwalk.â€
The projected trade routes along the Connecticut coast includes ports in East and South Norwalk, Stamford, Bridgeport and New Haven once the project is fully implemented. Kunkel said the project already has committed customers in Stamford and Norwalk, as well as locations further up the coastline. The first cross Sound trades will be from East Norwalk to Great Neck and Glen Cove in Long Island. Four Long Island small ports have committed to allow the project access to their docks.
Kunkel said the first boat should be up and running in a year, which will provide insight into potential expansion for the project. The first boat will run from the docks at Copps Island Oysters, across from Harbor Harvest in East Norwalk, to Glen Cove in Long Island.
â€Norwalk is on its way to becoming a nationally recognized sustainable port,†Kunkel said.
Original article