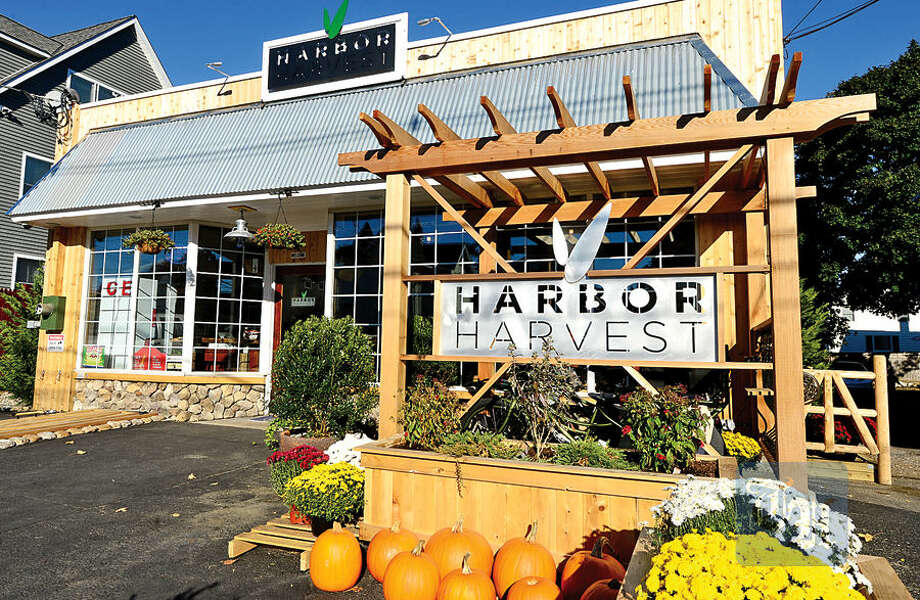 NORWALK – At the site of the decades-old East Norwalk neighborhood market on Cove Avenue, the much anticipated opening of Harbor Harvest has brought fresh farm-to-market, locally sourced foods to the area.
Harbor Harvest owners Bob Kunkel and Ernie Marsan have rendered a former old-time market virtually unrecognizable by transforming the space into an open and inviting market that features fresh produce, dairy and meats from farms and vendors throughout Connecticut and New York.
"In a way, the community demanded this market," said Kunkel. "People want fresh meats and produce and freshly prepared foods."
The market's fresh meats for example, have been hand-picked by Marsan and Kunkel as they travel to farms to select the steer and pigs that are butchered in-house.
"The meat hangs in our freezer for 10 days to two weeks and everything is butchered here," Kunkel said. "The beef is freshly ground, we make our own sausage. This is all USDA certified grass-fed all-natural beef."
Seafood is from Alaska and Gloucester, and produce is harvested from farms in Long Island and Connecticut.
In keeping with the green technology of Harbor Harvest, there is an urban cultivator on-site in which herbs are grown hydroponically.
"We are able to grow herbs here that we can harvest and use in our kitchen as well as sell to local chefs," Marsan said.
The urban cultivator is the first to be used commercially in Connecticut, Kunkel said.
"The urban cultivator was a joint venture with Tony Aitoro (of Aitoro Appliances)," Kunkel said. "In seven days the herbs grow to the microgreen stage."
Marsan and Kunkel plan to incorporate green technology into their business model.
Before long the grocery will employ electric bicycles for deliveries.
"The plan will be to be able make deliveries on these lithium powered bikes," Kunkel said.
An ambitious green initiative- an electric boat for trading voyages to Long Island is planned for the future.
Kunkel, is president of Amtech, the company that built R/V Spirit of the Sound, the Norwalk Maritime Aquarium's lithium-powered research vessel and hopes to eventually construct a boat that will move farm produce between Connecticut and Long Island.
"There are certain things that Long Island has that we don't have, but it takes eight hours to get there," Marsan said. ""We want to do it in two hours, going straight across the Sound, emissions-free."
A sign on the market's wall explains the pair's plan:
"Watch for our Hybrid powered refrigerated boats in the harbors of Connecticut and Long Island as we grow our sustainable transportation system. Our vision is to connect Connecticut's farms and consumers with the farms and villages of Long Island. Seaborne delivery to reduce congestion and emissions on your local roadways. Our 'green' is blue."
"I'm about half way through the plans for the boat, which would essentially be one big refrigerator," Kunkel said. "While Connecticut is known for its dairy and meat, Long Island is known for its produce, so we are hoping to be able to connect the two and turn Norwalk into a sustainable port."
Harbor Harvest, 7 Cove Ave., Norwalk is open from 8 a.m. to 8 p.m. weekdays, 8 a.m. to 6 p.m., Saturdays, and 9 a.m. to 3 p.m. on Sundays.