MARCH 11, 2018 —The farm-to-table food market has been trending upwards in gentrified cities such as New York for more than a decade. And while consumers' appetites for farm-to-table products almost seems insatiable, transporting those goods from their sources in and around Long Island Sound, Upstate New York or New Jersey to the shelves and tables of local restaurants, groceries, delis and specialty stores hasn't been so easy. Getting corn or potatoes by truck from North Shore farms near Glen Cove or wine from vineyards on the North Folk of Long Island to city restaurants and grocery stores can be a traffic nightmare, fighting hours of congestion along snarled regional highways, bridges, tunnels, and local roads.
But a Norwalk, CT, specialty grocery store, deli, and farmers market is blazing a new trail to change all that. Harbor Harvest, which sells locally sourced fresh veggies, artisan products, in-house butchered meats, and dairy foods to local restaurants, plans to move the transport of those goods from the road to the water. To do this, it will build and operate a fleet of battery-powered cargo vessels to connect to ports in Connecticut and New York. Harbor Harvest held a keel laying ceremony on February 23 for the first of what could be as many as three 65 ft x 21 ft hybrid all-aluminum cargo vessels at Derecktor Shipyards in Mamaroneck, NY. The boat will be fitted with a BAE Systems' HybriDrive Marine Propulsion System from BAE Systems, along with an energy storage system and Cummins diesel generators. The first of its kind to be built in the U.S., the hybrid cargo vessel will be part of a new sustainable marine cargo transport network on Long Island Sound and the Hudson River.
The visionary force behind the new short sea shipping project is Bob Kunkel, who along with Ernie Marsan, are owners of Harbor Harvest. When he's not selecting produce at local farms or butchering meat at Harbor Harvest, Kunkel is President of Alternative Marine Technologies (AMTECH), a firm that supports shipowners in alternative energy and propulsion projects. A Massachusetts Maritime Academy graduate, Kunkel also served for five years as the Federal Chairman of the Short Sea Shipping Cooperative Program under the Maritime Administration (MARAD) and the Department of Transportation (DOT). He also has decades of ship construction experience, including stints at General Dynamics NASSCO in San Diego, CA, and South Korea's Hyundai Heavy Industries (HHI), and is a senior member of the Special Committee on Ship Operation with ABS and an elected member of the NCB.
"This is going to be the first hybrid cargo vessel ever built in the United States,†said Kunkel at the keel laying ceremony. "It is going to be done with the assistance of the Maritime Administration and the Department of Transportation, who is now putting us as a designated project in the Marine Highway program.â€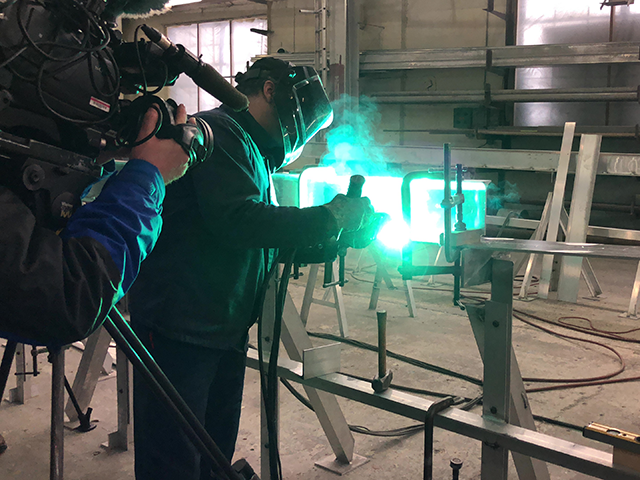 The aim of the Marine Highway program is to reduce landside congestion, lower transportation-related emissions, and increase the use of domestic marine transportation by supporting the development of transportation options for shippers. MARAD currently has an "Open Season†period for Marine Highway project submission until December 31, 2018.
Eligible projects may be designated as Marine Highway Projects by the Secretary of Transportation. Being designated a Marine Highway Project allows the DOT resources to be used to assist public project sponsors, ports and other local transportation or economic development agencies in the development of Marine Highway projects.
Economic benefits to region
But Kunkel also pointed out that the economic benefits of the project to the regional Connecticut-New York economy go well beyond its shipbuilding and ship operations components. And that was readily apparent from the broad spectrum of guests that were on hand at the ceremony, which included local restaurateurs, chefs, bakers and artisans, investors Pace Ralli and Magnus Tangen of Clean Marine Energy, and Per Heidenreich, Managing Partner of private equity firm Heidenreich Enterprises L.P., hybrid propulsion supplier Dave Adamiak, Senior Manager, Business Development, Power & Propulsion Solutions, BAE Systems, Evan Matthews, Executive Director, Connecticut Port Authority, and Tim Pickering, Operations Development Manager, Office of Marine Highways, MARAD, and Capt. Jeff Flumignan, Director, North Atlantic Gateway, MARAD. Many of those on hand were recognized by Kunkel with special wooden planks showing the outboard profile of the hybrid vessel.
Transforming shipping
The ship's sponsor was Bob's wife, Marilyn. Her initials were welded into the vessel's keel as part of the ceremony.
Speaking to those in attendance, Micah Tucker, Vice President of New Construction & Engineering, Derecktor Shipyards, said the project would transform the shipping industry in a number of ways. "First way, it puts shipping back in the hands of small business and reinforces that entrepreneurial spirit. Second way, it ensures that local farms and artisan businesses have a bright future and are able to expand beyond their local municipalities and current means of doing business. And lastly, it transforms the shipping industry to a more responsible, economically sustainable, and environmentally friendly method of doing business.â€
The Harbor Harvest vessel is the third in a series of hybrid propulsion catamarans built by Derecktor Shipyards. The Harbor Harvest vessel is similar to the first two Incat Crowther-designed research vessels in the series, except that it has been modified to enable it to transport 12,000 pounds of cargo, including 9,000 pounds of refrigerated cargo in storage and 3,000 pounds on deck.
Prior to the construction of the Harbor Harvest boat, Derecktor Shipyards delivered the CUNY I, a research vessel (shown at left; image courtesy of BAE Systems) for the City University of New York's Brooklyn College. The 65 ft CUNY I is powered by a BAE Systems' HybriDrive diesel-electric hybrid system, and has a state-of-the-art lab. The boat is built to comply with U.S. Coast Guard Subchapter T regulations for small passenger vessels.
Electric power is supplied by a set of Corvus lithium ion batteries, and propulsion is via articulating drives powered by two electric motors.
The City University of New York (CUNY), in collaboration with the Science and Resilience Institute at Jamaica Bay, will use the vessel for research of the Jamaica Bay area, as well as Long Island Sound.
The first hybrid vessel built by Derecktor Shipyards was the M/V Spirit of the Sound for the Maritime Aquarium at Norwalk.
The Harbor Harvest boat is expected to be faster than its predecessors, reaching speeds of up to 15 knots. It will also have the capability to be recharged at the dock during loading and offloading operations.
*Originally published in the March 2018 issue of Marine Log as "The Birth of Sustainable Shipping, Keel laid for first hybrid cargo vessel in U.S., which would be key component of new sustainable marine cargo transport network."
Original article